We were excited to welcome ∼500 delegates at West Road Concert Hall for our annual Symposium on July 5th, with a further 300+ UK and international delegates opting to view the talks online.  A small selection of photographs can already be found on our website, with more to follow soon.
To kick off the day, we held a Meet the Consortium session where our pharma partners met with registered attendees from academia, affiliated companies and institutions. The session facilitated around 40 new connections, which we hope will lead to collaborative opportunities in the coming year.
After a bustling networking lunch for all delegates, our Director Tony Kouzarides opened the first session with an introduction to the Milner Institute, detailing our mission and strategy. Tony described how the Institute drives research towards therapies by connecting academia with business, highlighting our in-house research capabilities, Therapeutics Consortium, and company formation pipeline, which includes our Bio-incubator Frame Shift, the Venture Builder Start Codon, and the pre-seed accelerator Bio-spark.
The first plenary talk was from Mene Pangalos, the Executive VP for BioPharmaceuticals R&D at AstraZeneca, who gave an excellent presentation aptly entitled "Turning Science into Medicine". Mene highlighted the power of genetics, AI and functional genomics in better target identification, and introduced the goals and scientific rigour adopted by AstraZeneca through The 5 Rs framework.
Cigall Kadoch (Dana-Farber Cancer Institute and Harvard Medical School), and Allan Bradley (Cambridge Institute of Therapeutic Immunology & Infectious Disease and T-Therapeutics) closed the first session with inspiring presentations highlighting their entrepreneurial journeys, before the audience broke for a coffee break and poster session, sponsored by the Symposium's silver sponsor, bit.bio.
The second session began with Karen Duff (UK Dementia Research Institute at University College London) speaking on the diversity of tau structure and splicing in tauopathies, after which delegates enjoyed spotlight talks on research and entrepreneurship at the Milner Institute. Manav Pathania gave an overview of his models of paediatric high-grade glioma that can reveal subtype-specific therapeutic vulnerabilities, and David Walter and Doug Ross-Thriepland showcased the Joint AstraZeneca-CRUK Horizons Functional Genomics Centre, detailing how the collaboration aims to accelerate oncology drug discovery through pooled CRISPR screening. The final spotlight talk was from Debora Lucarelli of Enhanc3d Genomics, a functional genomics spinout company from the Babraham Institute that was, until recently, based in the Milner's bio-incubator Frame Shift. Debora spoke on leveraging the 3D Genome to advance therapeutic targets and biomarker identification, and highlighted how the Milner Institute supported her start-up to progress in its early stages.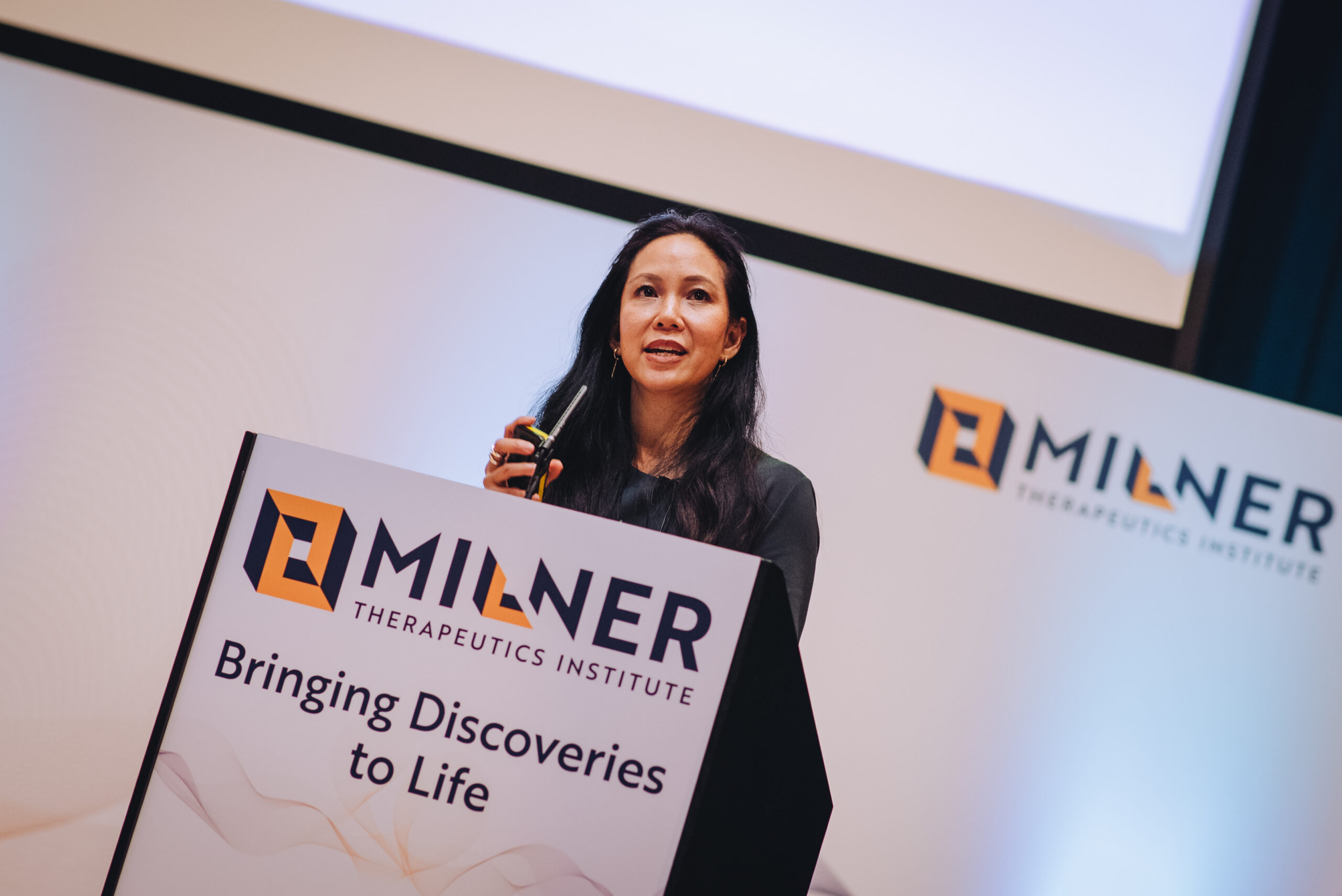 The final two talks of the day were certainly worth waiting for, as our delegates enjoyed fantastic talks from Serena Nik-Zainal (Early Cancer Institute, University of Cambridge) and Wolf Reik (Altos Labs). Serena took to the stage with the intriguing talk title "Whodunnit in cancer: Using mutational signatures to uncover the culprits of cancer", and Wolf Reik closed the session with a talk about epigenetic reprogramming in development and ageing.
The Symposium ended with a busy networking reception, where delegates viewed posters from throughout academia and industry, and formed new connections. Our sponsors – bit.bio, AltemisLab, Genscript, Pelago Bioscience, and Selvita – welcomed delegates at exhibition booths, along with Connect: Health Tech, who gave opportunities to view and join their online community platform.
We were thrilled with the overwhelming interest in our Symposium this year, and thank all our delegates for their enthusiasm, insights and contributions. We look forward to welcoming you back next year!