FRAME SHIFT BIO-INCUBATOR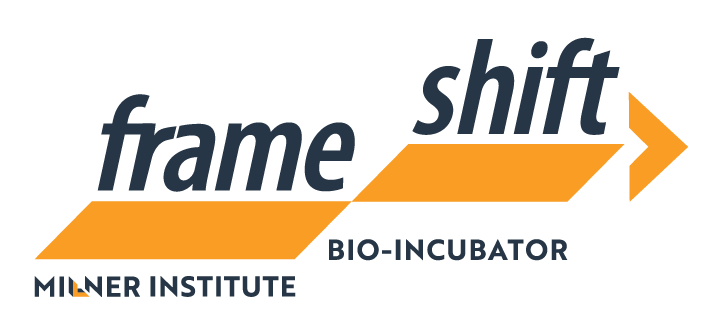 The Milner Therapeutics Institute provides space for start-ups and SMEs through the Frame Shift Bio-incubator.
Frame Shift provides a unique environment for companies to work side-by-side with startups, pharma and academic scientists in an ecosystem physically and culturally designed to spark collaboration and entrepreneurship. Frame Shift has a particular focus on R&D intensive companies working in areas related to the institute's expertise (e.g. functional genomics, early target discovery, therapeutics). Frame Shift complements other initiatives such as the Start Codon Venture Builder, providing flexible options for start-up companies at different stages in their development.
Frame Shift began with the successful model of companies such as Rockend Ltd (now Xap Therapeutics) who have been located in the institute during the past two years and have now expanded significantly as to require expansion to another site. Companies in the incubator will have access to space in the MTI environment for 24 months to conduct critical R&D work and successfully grow so that they are ready to scale-up at one of the science parks in Cambridge.
Benefits for companies in the Frame Shift Bio-incubator:
Potential for interactions with clinicians, researchers and drug discovery scientists at the University and on the biomedical campus.
Advice and research input from the Milner's in-house research groups.
Know-how and expertise of representatives of the 12 pharma companies in our Consortium.
Membership to an exclusive network of 70+ affiliated global pharma and biotech companies, and access to Milner internal and external events, including the annual Milner Therapeutics Symposium and Pitch Event.
Access to our Venture Partner Network, mentors, business experts, and masterclasses.
Frame Shift Companies
You can read more about our Frame Shift companies below, and find their current job opportunities on our Careers Page. For further information on space in the bio-incubator, please email our Head of Entrepreneurship Alexandra Huener.
AVATRIAL
An unparalleled biomedical data universe

Avatrial aims to assemble the world's most comprehensive and scalable multi-dimensional health and disease dataset and interrogate it to transform our understanding of how cancer begins, to improve diagnosis and to develop transformative therapies. In disease, Avatrial will routinely collect healthy tissue, cancer tissue and blood samples from patients undergoing surgery and perform state-of-the-art deep multi-omic characterisation of the samples. The data will be linked with regularly-updated clinical data for all patients. Avatrial will crowdsource longitudinal socio-demographic, environmental, behavioural, physiological (e.g., from wearables) and multi-omic (e.g., from blood, urine and saliva samples) data across ages and races.
Avatrial has obtained the expertise, infrastructure, regulatory approvals, contracts and logistic solutions to generate these data as a matter of routine and in a scalable manner. Avatrial is seeking partners to join its mission to deliver a paradigm shift in oncology discovery and therapeutics by leveraging and rapidly expanding unprecedented access to healthy and diseased human tissue and data.
Contact: Professor Kourosh Saeb-Parsy
 | kourosh.saeb-parsy@avatrial.life | avatrial.life
COSYNE THERAPEUTICS
Transforming drug discovery through polymathic AI
CoSyne Therapeutics is a computational drug target discovery company based in London and Cambridge. The company's mission is to develop next generation therapeutics to help patients with devastating diseases. Their first goal is to cure brain cancer.
Contact: info@cosyne.com | cosyne.com
EPITOPEA
Revealing the true targets for next generation immunotherapies
Epitopea is a new transatlantic cancer-immunotherapeutics company with operations in Cambridge and Montreal. The company builds on the recent discovery of an abundant new class of tumour-specific antigen. The company aims to discover additional antigens and prioritise the most promising for exploitation via multiple modalities to achieve our goal: guiding the adaptive immune system to control cancer.
Contact: info@epitopea.com | epitopea.com

Jon Moore
SHIFT BIOSCIENCE LTD
Unlocking safe rejuvenation with deep learning models
Shift Bioscience, cofounded by Daniel Ives, is developing safer drug targets for cellular rejuvenation by the application of machine-learning 'driver' clocks to cell reprogramming. Daniel (CEO) helped guide Brendan Swain (CSO) to develop an accurate single cell ageing clock, through the application of machine learning approaches to gene expression data. This enabled a CRISPR screen for ageing, but more excitingly, the constituent genes making up the clock were enriched for functional 'drivers' of ageing phenotypes, suggesting a causal or 'driver' clock methodology. This methodology was then applied to a powerful but dangerous cellular rejuvenation paradigm (cell reprogramming with pluripotent factors OSKM), which identified putative drug targets for safe rejuvenation. Shift is now on the cusp of validating these drug targets (more detail here).
Contact: hello@shiftbioscience.com | shiftbioscience.com

Daniel Ives

Stroma Biosciences is a biotech spinout from the University of Cambridge, utilising a proprietary stroma-focused discovery platform to identify novel targets. They are developing therapeutics that specifically antagonise stroma-intrinsic pathways within the tumour microenvironment which are critically relied upon by various cancers. These novel treatments target stromal cells and thereby cut this important lifeline for cancer cells.
Contact: Andrew Moore | amoore@stroma.bio | stroma.bio
Virothera (formerly Virokine Therapeutics), founded by Dr Ursula Gompels, is engineering novel virus inspired human gene immunotherapy for new cures for infections, autoimmune disease and cancer. Our proprietary technologies can solve the problem of in vivo immune cell targeting, utilising gene expression of novel cell membrane antigen complexes and adapted human chemokines, regulators of immune cell delivery. Initially focused on virus infections, we show high protective efficacy for our first products in preclinical in vivo models. With rapid genomics discovery, we aim to re-code immunity for new treatments.
Contact: info@virothera.co.uk | virothera.co.uk