Artificial Intelligence and Machine Learning at the Milner Therapeutics Institute
The aim of our computational research group, led by Dr Namshik Han, is to create bespoke machine learning methods to uncover novel disease mechanisms through the integration and interrogation of large multi-omic datasets. Our approaches have been applied to target identification and repositioning and are applicable across many areas of healthcare including early detection and personalised medicine.
We'd like to work with you. Please get in touch using the button below.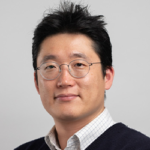 Group Members
Namshik Han (Head)
Georgia Tsagkogeorga (Senior Researcher)
Woochang Hwang (Postdoctoral Researcher)
Méabh MacMahon (Postdoctoral Researcher)
Sanjay Rathee (Postdoctoral Researcher)
Anika Liu (Joint PhD Student)
Nicholas Katritsis (Joint PhD Student)
Winnie Lei (Joint PhD Student)
Louise Lecointre (MPhil Student)
Soorin Yim (Visiting PhD Student)
Alumni
Noah Collins
Seungbeom Lee
Ming Zeng
Sophia Ramani
Publications
* Co-first author   § Co-corresponding author
Bespoke machine learning methods to identify new signatures of disease and therapeutic targets
Working with unique patient datasets and disease models
Sharing expertise and partnering with industry to inform decision making in drug discovery