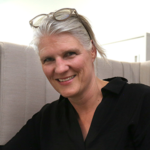 We are delighted to announce that Alexandra Huener has joined the Milner team as the Head of Entrepreneurship. This exciting new role has been created to lead our expanding initiatives for entrepreneurs here in Cambridge, through the Milner Frame Shift bio-incubator, the Affiliated Venture Partner network and the Bio-Spark Fellowship programme being run together with Cambridge Gravity.
Alexandra brings to the team a wealth of experience in creating networks and initiatives that enable scientists with new innovations to build contacts and gain commercial know-how. She has run entrepreneurial programmes both in Germany and here in Cambridge. Most recently, she has developed and managed the IMPULSE programme for tech innovators in West Cambridge since 2016 – an annual programme focused on helping early stage entrepreneurs build a business case around their ideas, and establish a network of mentors, investors and experienced innovators.
"It's fantastic to be now part of the Milner team, where I hope to use my experience developing a vibrant entrepreneurial environment for scientists and start-ups to foster innovation. Bringing people together to create a better society is what drives me. I am excited to work with the Milner partners in the Cambridge ecosystem to further build on the entrepreneurial activities that the team here has established." Alex said.